External wall insulation construction problems and their prevention
1.) Cracks and damage :

wall crack
Cracking, damage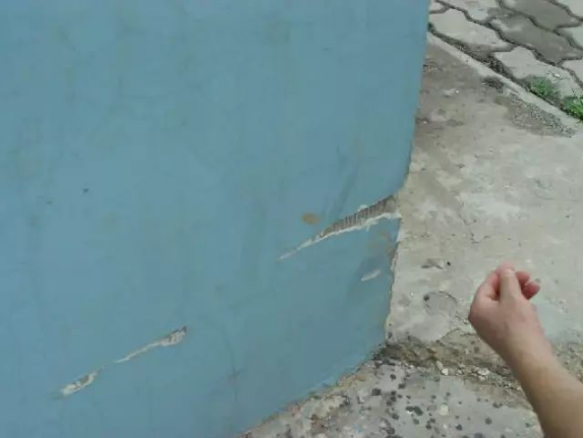 1) Plastering mortar has high elastic modulus and insufficient crack resistance
Low gel content; high cement content;
"Crown ratio" does not reflect good flexibility, pay attention to impact resistance;
Grid extra wall insulation mortar is too thick.
Wall insulation mortar exceeds operating time.
2 ) Glass fiber grid reinforcement effect difference
Poor alkali resistance;
Low breaking strength, low grammage, no double-layered network in the first floor;
When laid, it is not flattened;
The lap width is not enough or even not overlapped;
3 ) Not properly used, lack of normal maintenance
Exceeding the permission of heavy objects and hard objects crash against the wall;
Eliminating holes to install building outline lights;
Failure to repair in time makes the problem worse;
(width 0.2mm is the limit)
Some projects have considered tile finishes, fences, and green belts at the time of design to prevent improper man-made activities from damaging the walls.
Line pipe outlet handling badly
steel-rebar mouth processing badly
Leakage causes of external wall insulation mortar :
1.)The design is rough, without considering how the wall attachments are handled; no suitable fittings are selected;
2) Construction is irresponsible and there must be no openings or leaks that can seep through.
3) Supervision should strictly check and check;
4) Owners should keep in mind that there is no good for the cheap.
IF THERE IS ANY MORE QUESTIONS ABOUT EXTERNAL WALL INSULATION MORTAR ,PLEASE FEEL FREE TO CONTACT US , DJY MACHINERY MUST SERVICE YOU PROFESSIONAL ADVICE AND GUIDENCE .