For the auto dry mix mortar plant,its output capacity 10-12tph. It is usually equipped with 2m3 mortar mixer(double shafts agravic paddle type mixer) , output capacity 1.2ton/ batch within 30s-90s . It takes 4-6mins from batching &weighing material to transferring mixed mortar into end product hopper; the batching-weighing material takes 2mins, transferring material takes 1min, and the LSY219 screw conveyor can convey 1 ton material within 1.2 minutes. For the semi-auto dry mortar production plant, its final output capacity is to less or almost 8t/h ,if without pre-mix hopper ; and the capacity could be ≤15T/h ,if adding the pre-mix hopper for the dry mix mortar plant.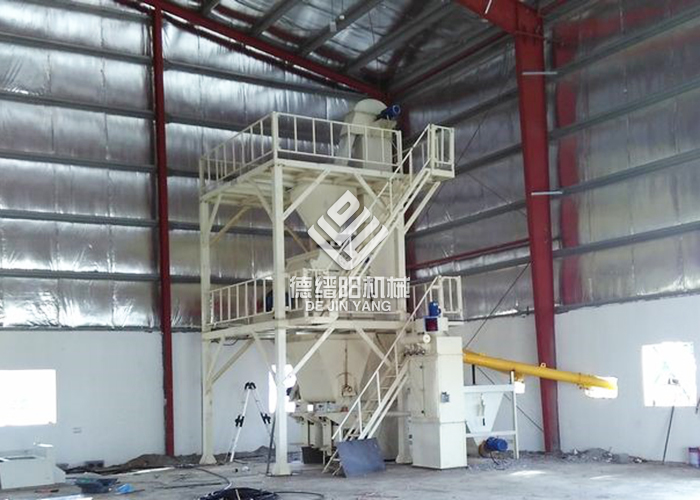 Usually the semi-automatic dry mortar production line will be equipped with two sets of 50t silo, LSY219 type screw conveyor /2 pcs, 1.5m3 model batching hopper,DJ38/25 model bucket elevator, premix hopper 2m3, mortar mixer 2m3 type, end product hopper 2.5m3 model ,with 2 sets of impeller type valve port packing machine. The above parts could assemble the 10-12TPH capacity semi-auto dry mortar production line to produce adhesive mortar ,tile glue mortar,plastering mortar,masonry mortar,decorative mortar,internal /external wall putty mortar etc.
To produce any kind of dry mortar ,the raw material-silicon sand water content should be lower than 0.5% , or you still need to add the sand drying line .
DJY dry mix mortar production line has been successfully installed at domestic & abroad building site .Only the great performance dry mortar production plant could produce the better quality dry mortar .
Contact: Ms. Sunny
Mobile NO.: +8615137175832
Whatsapp NO.:+8615137175832
Email: sunnydjy823@gmail.com & efficientservice@outlook.com
Skype : sunny12593