Tamil New Year is a public holiday in Mauritius, Sri Lanka and Tamil Nadu, India
When is Tamil New Year?
Puthandu is the Tamil New Year's Day.
It is a public holiday in Sri Lanka and Mauritius. For 2018 in India, it is a public holiday in Tamil Nadu
The Tamil year starts on 14 April in the Gregorian calendar. It is similar to the Vernal Equinox which is usually celebrated on or around 21 March. The date differs due to the position of the Tamil region in the northern hemisphere and some ancient and impressive astronomical observations involving the orbits of Jupiter and Saturn.
Though not purely a religious festival, Puthandu does hold special significance to Hindus as it is said to be the day that the Hindu god of creation, Lord Brahama, started creation.
Tamil New Year's Day is celebrated on the first day of Chithirai - the first month in the Tamil Calendar and is also known as Varusha Pirappu.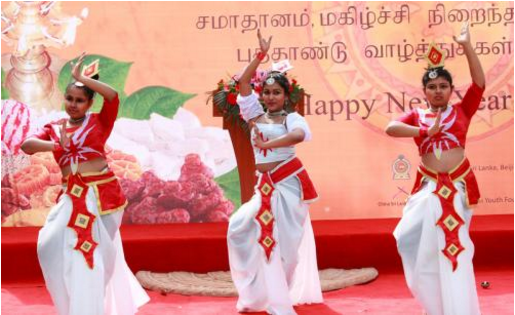 Indian Customs
Despite being an ancient festival, a modern highlight of Puthandu is a big car festival held at Tiruvadamarudur near Kumbakonam.
On the night before Puthandu, a tray with with fruit, betel leaves, gold and silver jewelry, money and flowers is arranged. This is to be viewed first thing in the morning as it is believed that seeing these auspicious things will bring prosperity and happiness during the year.
Sri Lankan Customs
In Sri Lanka, the day is the time of the traditional first ploughing of the ground to mark the start of the new agricultural season.
It is a tradition that the first financial transaction of the year is when elders give gifts of money to the unmarried young, as a sign of good luck.
Sinhalese New Year
In Sri Lanka, the public holidays for Tamil New Year also recognise that this is also Sinhalese New Year, also known as Aluth Avurudda. Like Tamil New Year, it marks the end of the harvest and the arrival of spring as indicated by the sun moving from Meena Rashiya ( Pisces) to Mesha Rashiya (Aries).
Mauritius
In Mauritius, this day is known as Tamizh Puttaandu or Varusha Pirappu. It is a public holiday every other year and is currently a public holiday in even years. The holiday alternates with Thaipoosam Cavade .